The future of QR codes is looking bright. They are becoming increasingly popular as a way to store and share information quickly and easily. As technology advances, QR codes are becoming more secure and versatile, allowing for a range of uses such as contactless payments, secure authentication, and digital identity. Additionally, they are being used in a variety of industries, including retail, healthcare, and transportation.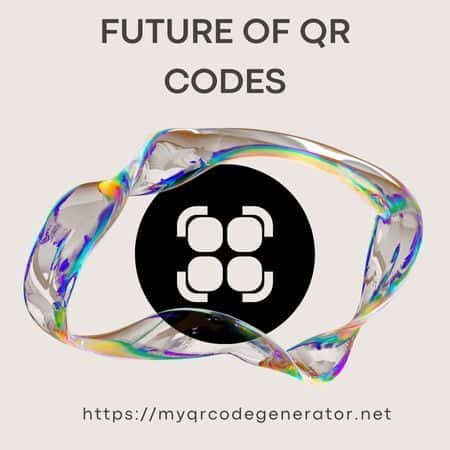 Here are some of the key future trends for QR codes:
Increased adoption: QR codes are becoming more popular and widely adopted. More businesses and organizations are using QR codes in their marketing, product information and transactions. This increased adoption will likely continue in the coming years.
Integration with augmented reality: QR codes can be integrated with augmented reality to provide immersive experiences. Scanning a QR code can trigger an AR experience, allowing users to visualize products in their space or get interactive information. This integration of QR codes and AR is an emerging trend.
Access control: QR codes can be used for access control to buildings, offices or other physical spaces. The codes can contain access permissions and credentials to enable touch-free entry. This can be a convenient and cost-effective access control mechanism for many applications.
Product information: QR codes are a great way to provide digital information for physical products. They can be scanned to get specifications, instructions, videos, reviews and other details about a product. This allows keeping product information always up-to-date and enables interactive user experiences. More products and businesses can utilize QR codes to share information.
Growth in contactless payments: QR codes are playing an increasing role in contactless payments. Whether it's paying at a store counter or paying for public transit, QR code-based payments are becoming more common. This growth of contactless payments using QR codes is likely to accelerate.
Improved aesthetics: QR codes are getting a design makeover. Newer QR codes using patterns and logos instead of the traditional black and white squares are making QR codes more visually appealing. These stylish QR codes can boost adoption for marketing use cases.
Security enhancements: There will be additional features introduced to strengthen the security of QR codes and prevent fraud or scams. Things like encrypted QR codes, multi-factor authentication and other advanced security techniques will likely become more prevalent.
Health and safety: QR codes can be used to provide customers with information about the safety and hygiene measures taken by businesses in response to the COVID-19 pandemic. As health and safety concerns continue to be a priority for consumers, QR codes may be used to provide assurance and peace of mind.
Education: QR codes can be used to provide students with access to online resources, such as study materials or interactive content. As e-learning becomes more prevalent, QR codes may be used to facilitate remote learning and enhance the educational experience.
QR code analytics: As QR codes become more widely used, there will be a growing need for analytics tools that can track user engagement and provide insights into how QR codes are being used. This will enable businesses to optimize their QR code campaigns and improve their ROI.
Transportation and logistics: QR codes can be used to track and manage shipments, as well as to provide real-time information to customers about the status of their deliveries. As transportation and logistics companies look for ways to improve efficiency and customer satisfaction, QR codes may play an increasingly important role in this field.
Marketing and advertising: QR codes are increasingly being used in marketing and advertising campaigns to provide consumers with easy access to product information, promotions, and other content. As more businesses adopt QR codes in their marketing strategies, we may see more creative uses of QR codes, such as interactive campaigns and gamification.
Overall, QR codes are evolving and being adopted in more innovative use cases. With continuous improvements, they have a promising future as a convenient access mechanism to information and transactions.