Promote your upcoming event through QR code and provide useful event information to your guests or audience.
How to create a QR Code for an event.
Creating QR code is simple and easy with our web tool just follow the instructions.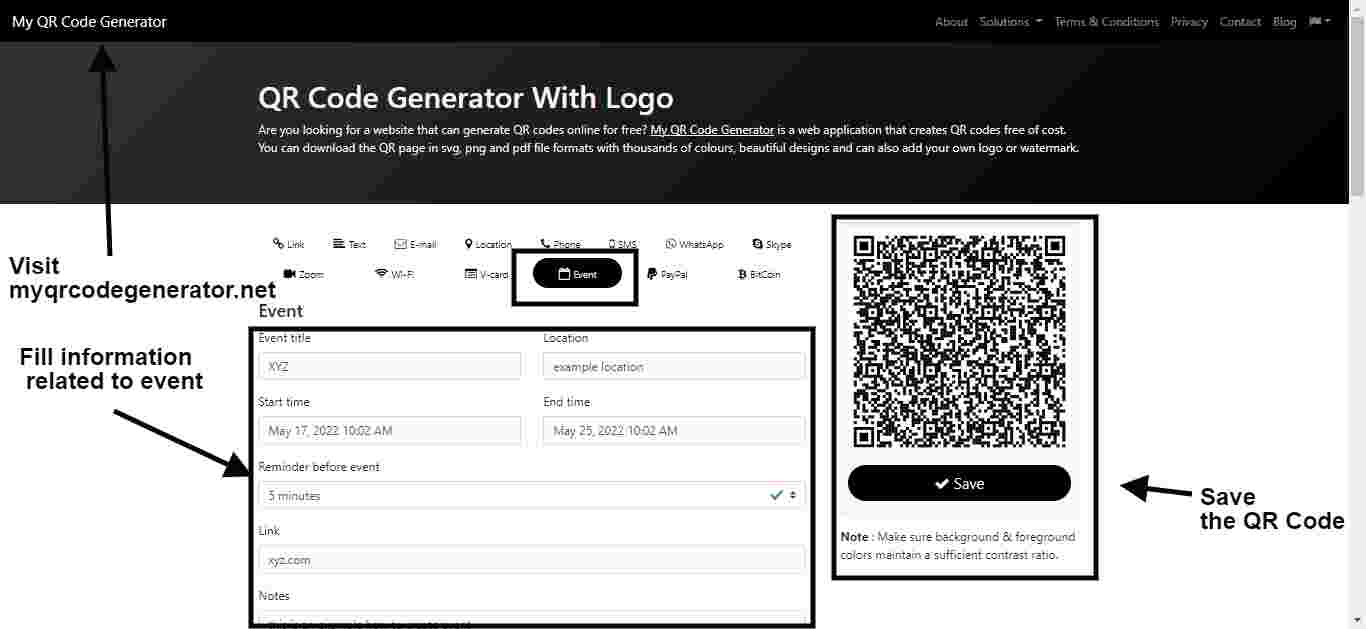 First of all, open My QR Code Generator website in your web browser https://myqrcodegenerator.net/#event
After that, write name in the event title box.
Next write the name of location in the location box.
And choose the correctly date, start time and end time of the event.
Furthermore add reminder time before the event through drop-down.
In addition you can also add URL of your website or any useful link in the Link box.
At last add any notes or message (500 character limit).
Press save button and download the QR code in png, svg or pdf format.
Uses of an event QR Code in real life
Conferences
Festivals
Meetups
Wedding Invitations
Seminars
Trade Show
Music Concerts
Benefits of QR Code in event management
Event management can be one of the most challenging projects that are faced by marketing professionals. Everything needs to go exactly to schedule and a single mistake can have a cascading effect that results. Vendors need to be managed and then, of course, there are guests, possibly the most challenging part of event management is dealing with gusts, their special needs, and gathering data about individuals and companies that are so useful.

Thanks fully the use of a simple QR code in event situations can make the job of the marketing professional that much easier. There is a myriad of benefits of QR-code in events management.

The major benefits of QR-code in event situations is that a QR code allows for the storage of vast amounts of information. That amount of information can allow for an enhanced guest or visitor experience. A QR-code on a ticket (for example) can allow a specific guest access to a VIP area, ensure that their dietary preferences are catered to, as well as provide valuable marketing information such as which areas at the function have been accessed and total foot traffic. The amount of data that is gathered can prove invaluable when the time comes for the company (or marketing operation) to deal with specific guests. Once that information has been gathered it will allow for the fine-tuning of offerings and the personalization of the guest experience at future events and can supply valuable information that can be leveraged in a variety of marketing projects (including those where data on purchase behavior is valuable).

The alternative is that the guest details are taken down manually. That is labor-intensive and time-consuming. An invitation with a QR code means no lines, no fuss - and allows frontline marketing company representatives to do what they do best - put guests at their ease.

The advent of cashless transactions via smart device scanning has further enhanced the usefulness of QR codes. By simply scanning a code the guest can purchase an item in a completely safe and convenient manner.

However one could make the observation that all of the functions of a QR code can be supplied by other means. That is generally true. However, most of those solutions require specialized hardware (for instance to interface with smart devices or track guest details). the fact is that QR codes simply do not require the investment nor the on-site setup that many other systems demand.

The resurgence of the humble QR code is a welcome development - especially in the events arena. It is one that no marketing company should ignore.