Text To QR Code Converter Online
We offer free text to QR code converter online to make plain text in any language into QR Code. Just enter the information and turn a text into a QR code image file instantly.
What is a text?
Text is a combination of an alphabet, numbers, symbols, or emoji that can be used by the users to describe their view or thought in written form. It can be a random string or meaningful word sentences.
What is a plain text to QR code converter?
A Text to QR converter is a tool that helps a person to convert any text to QR without knowing any technical knowledge. With it, one can share 1000 characters of text in QR Code format. To retrieve the text information from the QR Code you only need a digital device that has the feature of a camera and QR scanner.
How to create QR Code from text using our web application?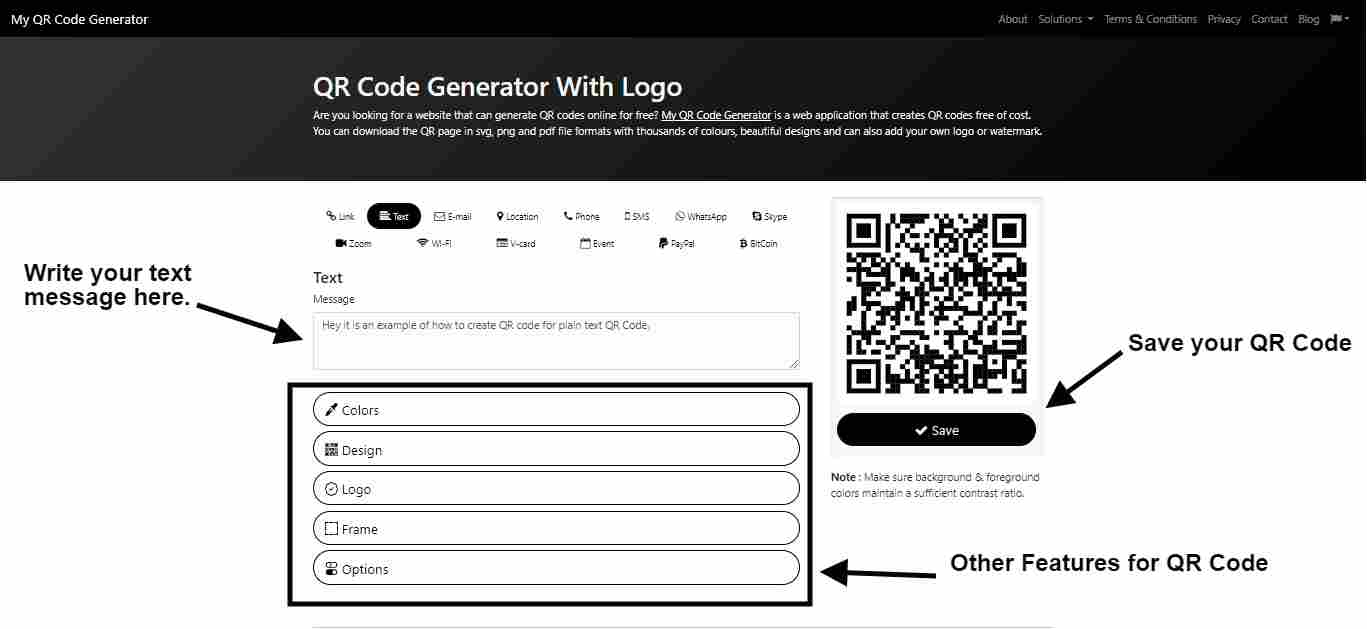 First, you need to Visit the https://myqrcodegenerator.net/#text website.
Then click on the text button and fill all your text in the empty box. Wait for a second to generate a QR code.
Save and download the QR code in PNG, SVG, or PDF file format.
There are many useful features like frames, style, and color to make QR codes more attractive.
This is an easy and fast way to turn text into QR Code So what are you waiting for?
Where to use it?
A text QR code is one of the most advanced ways to connect two parties, one who creates it to give information and the other to get it. The information is stored in encrypted black and white dots that only can access via digital devices having a camera. Many people are unaware of its amazing benefits and don't know where to use it. I wrote some examples where QR Code used mostly.
Product Packaging: Some products have limited space to display, only important information is shown. But you can show extra information to your buyer with a small-sized text-based QR Code. Product Manufacturers use QR codes on packaging to show product's code, expiry date, precautions etc
Discount and Redeem Code: The majority of consumers are looking for these kinds of codes to obtain special benefits. For example, many game publishers use QR code to attract new games with these codes.
Order Menu: Hotels and restaurants use it as an order menu for their customers to give information about drinks, foods and cuisines that are currently available.
Education: Schools, Colleges and Universities use QR codes to make learning easier and more interesting. Text notes on any subject can create and share with students and teachers with a QR code is easy and fun. It is also used in providing information to students who are searching for books in the library.
At Exhibition: QR Codes are used by art galleries, museums and fairs to provide additional information related to visitors.
Identity Card: Many education institutions and firms use QR Codes on identity card of their student, employees to store information related to them.
In Healthcare Sector: Hospitals and health clinics use QR Codes for track record of patients, health reports, medicines and other useful information.