Link To QR Code Generator
Turn your social media profile, personal blog or business website link to a QR code for free online with My QR Code Generator. It is a trusted web application to convert your web URL to QR Codes in just a few seconds.
What is a link?
In simple words, a link or website URL is a unique address used by all websites to give ease to internet users in accessing their web pages. Sometimes a website link can't be accessible in a web browser because of hidden or locked by the webmaster.
How to a create QR Code from any link or website URL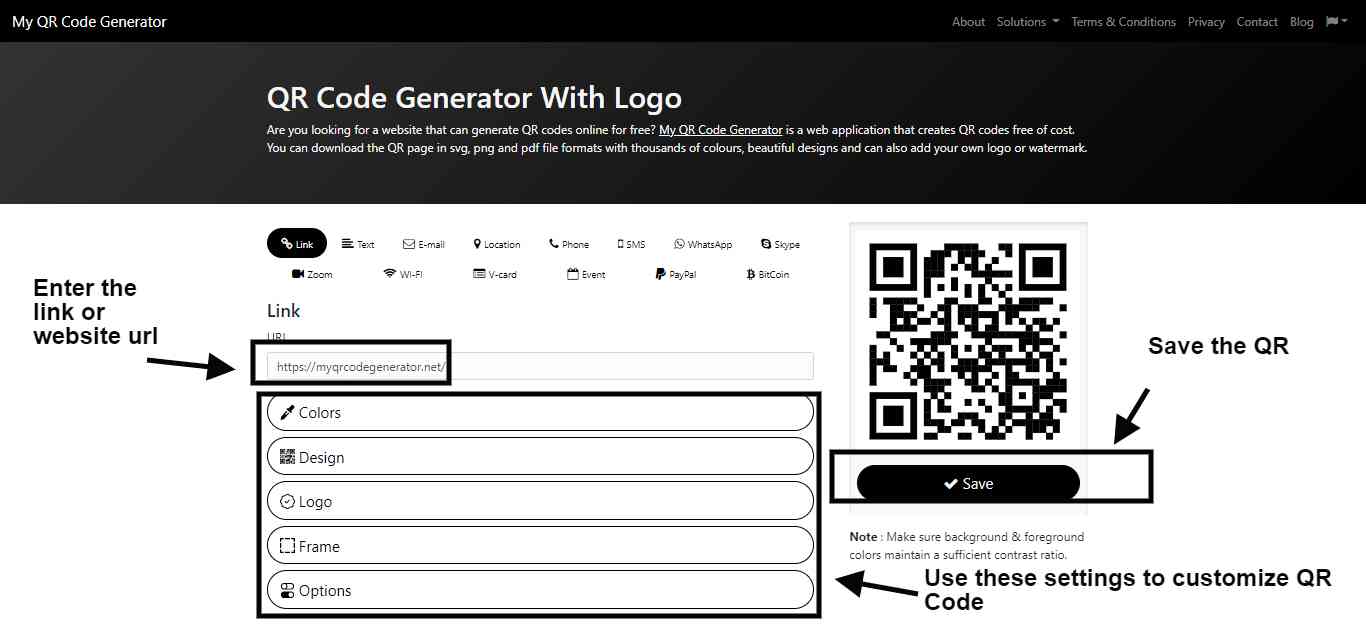 Creating QR code for any website link is easy in My QR Code Generator.
Get the link you want to turn into QR Code. Open the website https://myqrcodegenerator.net/ and paste the link in the URL Box and Save the QR code.
Download the QR code in .SVG, .PNG or PDF Format.
Do this process same when making QR codes for social media profiles. For examples, Facebook group pages, LinkedIn user profiles, Twitter etc.
Note: Use any URL shortener website or software, if your link is longer than 65 characters. Mostly you will see long URLs in dynamic websites because they generate lots of webpages automatically. for instance, e-commerce and social media websites. You can try bitly.com which is well known for its services to convert lengthy and ugly URLs to short and easy to read URLs.
Benefits and Use-cases of Link QR Codes
Below are some examples of how to take advantage of the Link QR Code.
Easy To Remember: The major advantage of using QR codes is that you don't need to remember the long URL structure. That saves the user from doing mistakes while typing the URL address on web browsers. When you scan the QR code, it retrieves stored information and opens the website link on your device.
Soical Media: Promoting your social media profile or community page with QR Code is far better than other paid marketing techniques. With QR Code you can directly send users to your Twitter profile, Facebook and Linkedin Page. Successful user engagement on social networking websites means an opportunity to connect with your target audience, lead and sales.
Print Media: QR Code on newspapers, magazines or books can be used for advertisement and giving information related to publisher's website etc.
Online Payments: It can be beneficial to redirect the user from QR Code to the website for contactless payment in any purchase of good and service or to accept the donation for any good cause and charity.
CV and Resume: Website designer or developer can use a QR code on your CV to showcase the previous work project website URLs with the recruiter during the interview. It will create a positive impact on the recruiter and increase the chance of job selection.
Business: Paste QR Code on your business location or use it on brochures and flyers to help partners, clients or customers who are interested to know more about the product or service.
C.T.A: Use "call to action" with QR Code to encourage users or customers to scan. After the scan, it will redirect people automatically to the your website. Try these words "Visit our website", "For more information", "Get discount" etc.
Major Features
It is totally free to use, so you don't need to think about payment.
Generated QR code is permanent forever and doesn't expire.
You can customize the QR code according to your needs and requirements.
Different colors, styles and frames are available.
Available in .SVG, .PNG and PDF file format.