Free Paypal QR Code Generator
Give your payer a QR Code shortcut to send payment through Paypal. My QR Code Generator helps payees in making QR Codes that accept digital payments.
What is PayPal?
PayPal is an online payment system that helps its users to send and receive money from others. It is also popular for its security and fast transactions.
How does it work?
We assist the user in making PayPal Invoice QR Code. After the QR code is created, you can send it to payers to request money. When generated PayPal QR Code is scanned by other parties it will redirect them to PayPal's official website. Where they can review information details and then finish the transaction.
How to generate QR code for paypal payment
Follow these steps to generate QR code invoice (request for payment).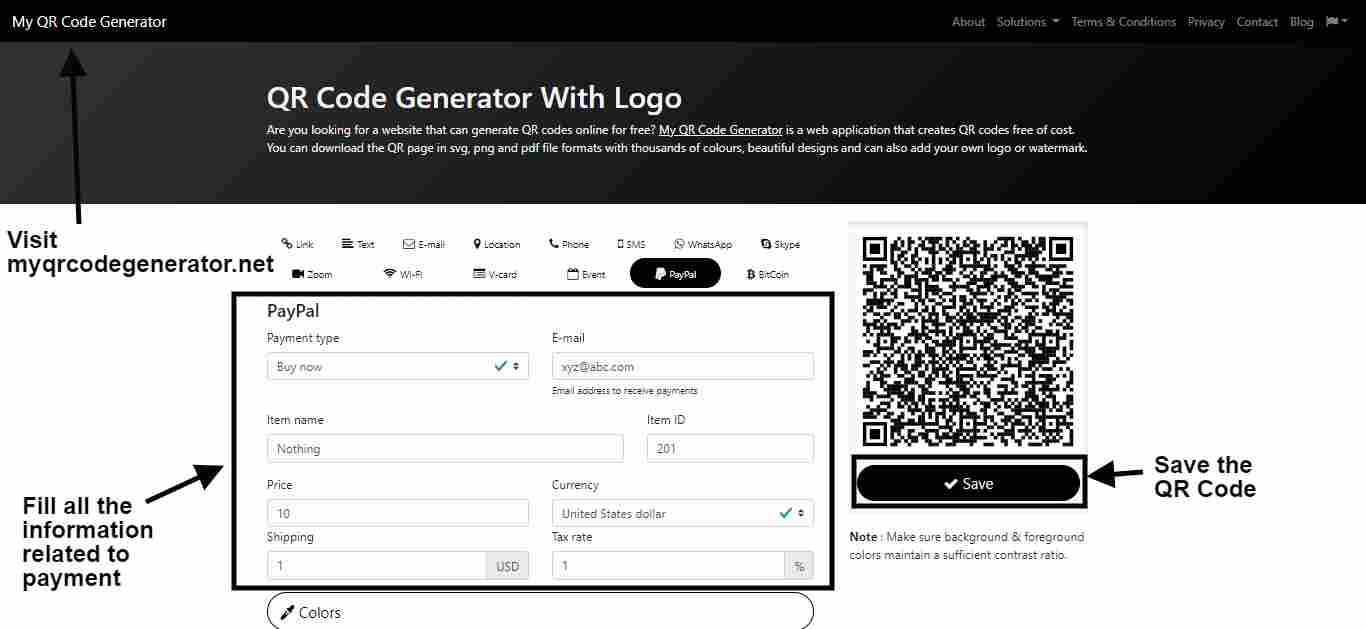 First you need to visit https://myqrcodegenerator.net/#paypal webpage in your browser.
After that choose payment type, currently there are only three types are available buy now, add to cart, donations.
Next, write your paypal's email address which you want to receive payments.
Furthermore add Item name and ID.
In addition set the price, choose currency from list, add shipping price in USD and tax rate in percentage.
At last add style, logo or change color of the QR Code using settings.
Press save button and your QR Code is ready to download.
Add Extra Features - You can make black & white QR code to attractive, stylish, branded by adding beautiful colors, logo and frames.
Second method to create paypal QR Code
It is easy and only require user's profile link.
Visit official website of paypal or open its android or ios app in your mobile.
Next, go to "Request" section and click on "share your personal link". Copy the link. It should like in this format - https://paypal.me/yourusername
Paste the link in our qr code generator and your QR Code will be ready in few seconds.
Use cases of paypal QR Codes
NGOs, voluntary groups, non-profit entities, or social workers can use it to accept donations from their supporters all across the globe.
A retailer or small business owner can use QR codes to accept online payments from their customers to sell goods.
Hotels and Restaurants use QR codes for accepting contactless payments for their services.
Many clients prefer to outsource their work to online freelancers. With PayPal, QR Code freelancers can make invoices easily and send them to clients.
Filling stations can use payment QR Codes to receive payments from the customer by a simple scan from their mobiles.
Ticket booking is the most common and easiest method to pay fees at fairs, amusement parks, public transport, and film theatre. These places' management uses QR Codes to allow its users to book tickets quickly.
In toll or parking places, authorities provide cashless payment facilities through QR codes to collect fees instantly and avoid queues of vehicles.
Are QR Codes safe?
QR Codes are 100% safe. But always check the website is genuine before performing any action or doing a payment. Hackers can use QR codes to show phishing webpage that will look similar to a popular website. To check whether a website is legit or not, pay attention to its URL structure (domain name) and presence of HTTPS (SSL).