As we stand on the cusp of a new digital frontier, the concept of the metaverse has captured the collective imagination. This burgeoning digital universe promises to redefine how we interact, work, and even exist in virtual spaces. One technology poised to play a critical role in this digital evolution is the QR code. This article delves into the transformative role of QR codes in the metaverse, exploring their practical applications, challenges, and future potential.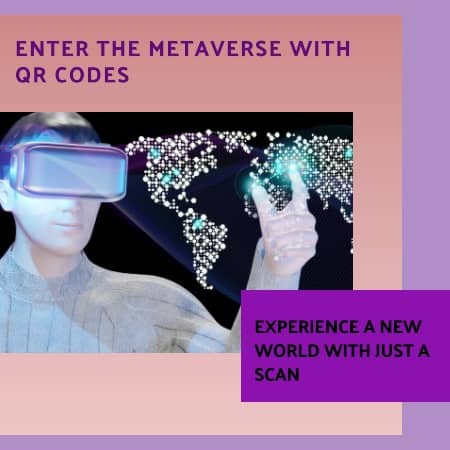 What is the Metaverse?
The metaverse is a collective, virtual shared space created by the convergence of physical reality and digital environments. It's not just a single virtual world; it's an expansive, interconnected universe of multiple 3D virtual worlds where people can interact with each other and computer-generated environments.
Platforms and Technologies
Various platforms like Roblox, Fortnite, and Decentraland are laying the groundwork for the metaverse. These platforms utilize technologies such as virtual reality (VR), augmented reality (AR), and blockchain to create immersive and interactive experiences.
Role of QR Codes in the Metaverse
Navigational Aids: In the sprawling digital landscapes of the metaverse, QR codes can serve as navigational aids. Scanning a QR code could instantly transport your avatar to a different virtual location, much like clicking a hyperlink on a webpage.
Access to Virtual Assets and Services: QR codes can facilitate transactions and access within the metaverse. For example, scanning a QR code could grant you a virtual item, or it could be a way to pay for services within the virtual world using cryptocurrency.
Real-world to Metaverse Transitions: QR codes can serve as portals between the physical world and the metaverse. Imagine scanning a QR code in a real-world location and having it transport your avatar to a corresponding place in the virtual world.
Practical Applications of QR Codes in the Metaverse
Virtual Events and Conferences: In the realm of virtual events, QR codes can serve as digital tickets or VIP passes. Scanning the code could grant access to exclusive virtual rooms, presentations, or networking opportunities.
Digital Commerce: QR codes can facilitate seamless transactions within the metaverse. Whether it's buying virtual real estate or trading digital assets, a quick scan can complete the transaction, often leveraging blockchain technology for added security and transparency.
Social Interactions and Networking: QR codes can enhance social experiences in the metaverse. For instance, scanning a QR code could add a new contact to your virtual social circle or unlock exclusive chat features.
Case Studies: QR Codes in Metaverse Platforms
Virtual Real Estate: Platforms like Decentraland have utilized QR codes to facilitate the buying and selling of virtual land. These codes direct users to blockchain-based contracts, ensuring secure and transparent transactions.
Gaming Environments: In gaming platforms like Fortnite, QR codes have been used for in-game purchases and to unlock special features or characters, enriching the gaming experience.
Educational and Training Simulations: In educational metaverse platforms, QR codes can provide quick access to learning materials, interactive lessons, and even virtual labs, making education more engaging and accessible.
Challenges and Ethical Considerations
User Experience and Accessibility: The effectiveness of QR codes in the metaverse is highly dependent on user-friendly design. Poorly implemented QR codes can lead to frustrating experiences, diminishing user engagement.
Data Security and Privacy: Given that QR codes can facilitate transactions and store data, robust security measures are essential. This is particularly crucial in the metaverse, where the lines between digital and real-world identities can blur.
Ethical Implications: The use of QR codes in the metaverse raises ethical questions around data ownership and digital inequality. As these codes become gateways to essential services and experiences, it's vital to consider who gets to access them and who gets left out.
Future Trends: What's Next for QR Codes in the Metaverse
Integration with Augmented Reality: As augmented reality (AR) technology matures, QR codes could serve as anchors for AR experiences within the metaverse. Imagine scanning a QR code to overlay additional information or visual effects onto a virtual object or location.
Personalized Metaverse Experiences: With advancements in machine learning and data analytics, QR codes could offer highly personalized experiences based on user behavior and preferences. Scanning a QR code could lead to a curated set of virtual events, shops, or social circles that align with your interests.
Smart Contracts and Blockchain: The integration of blockchain technology and smart contracts with QR codes could revolutionize transactions within the metaverse. This would add layers of security and transparency, ensuring that all parties involved in a transaction can trust the outcome.
Conclusion
QR codes are poised to play a pivotal role in the development and everyday functioning of the metaverse. From facilitating seamless transactions to enhancing social interactions and even paving the way for future technological integrations, the potential is vast. While challenges related to user experience and ethical considerations remain, the benefits far outweigh the drawbacks. As we continue to explore and build this new digital frontier, QR codes offer a versatile and practical tool that promises to make the metaverse more accessible, secure, and engaging.