In an era where technology is reshaping various sectors, social good and non-profit initiatives are no exception. The advent of digital tools has revolutionized the way these organizations operate, engage with communities, and achieve their missions. One such digital tool that has made a significant impact is the QR code. This article aims to explore the transformative role of QR codes in social good and non-profit initiatives, offering insights into their advantages, practical applications, and future potential.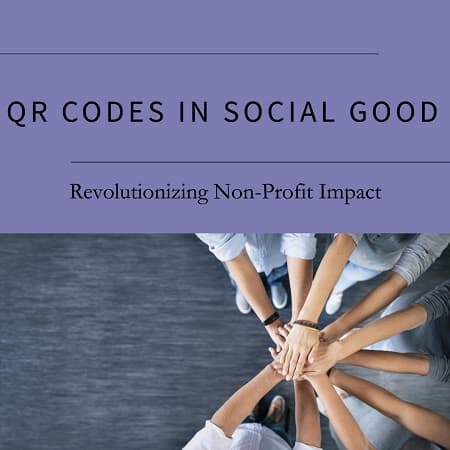 The Digital Transformation in Social Good and Non-Profits
From Traditional to Digital
Gone are the days when non-profits relied solely on door-to-door fundraising and paper pamphlets to spread awareness. The digital transformation has ushered in a new set of tools and platforms that have made operations more efficient and outreach more effective.
Role of QR Codes in the Digital Landscape
In this digital shift, QR codes have emerged as a powerful tool. They serve as a bridge between the physical and digital worlds, allowing for quick and easy access to information, donation portals, and much more. Their versatility and ease of use make them a valuable asset in the toolkit of any social good initiative.
Advantages of Using QR Codes for Social Good
Streamlined Donations: One of the most immediate benefits of using QR codes is the simplification of the donation process. A quick scan can lead potential donors directly to a donation page, eliminating the need for complicated bank transfers or website navigation.
Enhanced Awareness Campaigns: QR codes can be integrated into posters, flyers, and even social media, providing a quick way for people to learn more about a cause or campaign. This increases engagement and allows for a deeper connection with the target audience.
Real-Time Data and Analytics: The use of QR codes allows organizations to track engagement metrics in real-time. This data can be invaluable for assessing the effectiveness of campaigns, understanding donor behavior, and making data-driven decisions to improve future initiatives.
Practical Applications of QR Codes in Non-Profits
Fundraising Events: QR codes can be prominently displayed at fundraising events, allowing attendees to instantly donate using their smartphones. This not only simplifies the donation process but also encourages spontaneous giving.
Awareness Campaigns: QR codes can be integrated into various forms of media—from billboards to social media posts—to direct the audience to informational content, petitions, or donation pages. This multi-channel approach amplifies the reach and impact of awareness campaigns.
Volunteer Recruitment: QR codes can be used in volunteer fairs or community centers to streamline the recruitment process. A quick scan can lead interested individuals to a sign-up form or an informational video about the volunteer opportunity.
Case Studies: QR Codes Making a Difference
Disaster Relief Efforts: Organizations like the Red Cross have used QR codes to facilitate immediate donations during natural disasters. This quick response mechanism has proven to be highly effective in mobilizing resources when time is of the essence.
Educational Programs: Non-profits focused on education have employed QR codes to provide easy access to educational materials, tutorials, and scholarship applications, thereby democratizing access to quality education.
Environmental Conservation: Organizations like the World Wildlife Fund (WWF) have used QR codes in their campaigns to provide deeper insights into endangered species and ecosystems, driving both awareness and donations.
Challenges and Best Practices
User Experience and Accessibility: While QR codes offer numerous advantages, their effectiveness is contingent on user-friendly design. QR codes should be easily scannable and lead to mobile-optimized pages to ensure a seamless user experience.
Data Security and Transparency: Given that QR codes can facilitate financial transactions, robust security measures are essential. Organizations must adhere to data protection laws and be transparent about how donor information is used.
A/B Testing and Optimization: To maximize the effectiveness of QR code campaigns, it's advisable to conduct A/B testing to understand what resonates most with your target audience. This enables data-driven refinements to campaign strategies.
Future Trends: What's Next for QR Codes in Social Good
Integration with Blockchain for Transparency
As blockchain technology gains traction, its integration with QR codes could offer unprecedented levels of transparency in charitable giving. Donors could track the lifecycle of their donation, ensuring that funds are used as intended.
Personalized Donor Experiences
Advancements in data analytics could enable QR codes to deliver highly personalized experiences. For instance, a QR code could lead a repeat donor to a personalized thank-you message or exclusive updates about the projects they've supported.
Virtual Reality for Empathy Building
QR codes could serve as gateways to virtual reality experiences that foster empathy and deeper understanding of social issues. Imagine scanning a QR code and finding yourself in a virtual environment that simulates the challenges faced by individuals in underprivileged communities.
Conclusion
QR codes have emerged as a transformative force in the realm of social good and non-profit initiatives. From streamlining donations to enhancing awareness campaigns and even paving the way for future technological integrations like blockchain and virtual reality, the potential is immense. While challenges exist, particularly in the areas of user experience and data security, the benefits far outweigh the drawbacks. As we navigate the complexities of modern philanthropy, the intelligent application of QR codes offers a promising avenue for amplifying impact and driving meaningful change.