Should I Put a QR Code on My Resume? Navigating the Future of Job Applications
In the ever-evolving world of job applications, staying updated with the latest trends is crucial. A relatively recent trend that's garnered attention is the inclusion of QR codes on resumes. But the big question is: Should I put a QR code on my resume? Does it make your application more appealing, or is it just a passing gimmick? Let's delve deep into this topic to uncover the potential benefits, drawbacks, and best practices.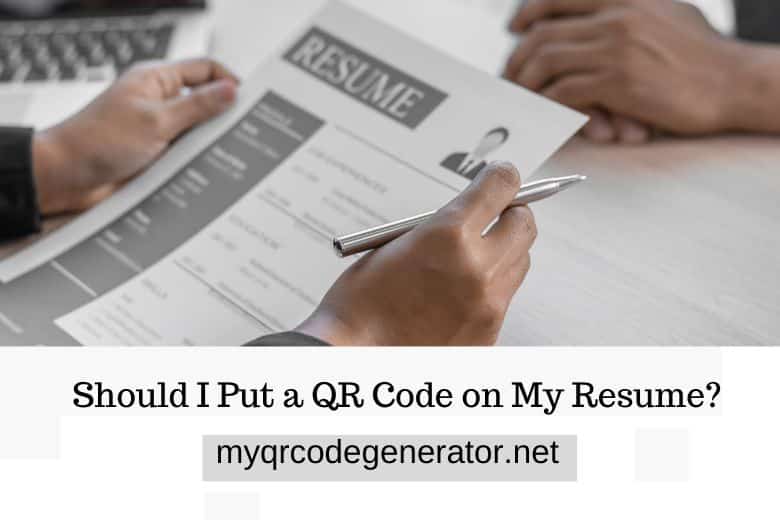 Why Consider a QR Code for Your Resume?
Digital Portfolio Access: In the creative industries, showcasing one's work is paramount. For those whose talents lie in visual domains, such as graphic designers or videographers, a simple text resume might not do justice. Herein lies the power of QR codes. By integrating a QR code on a resume, professionals offer potential employers a seamless gateway to their digital portfolio. This not only streamlines the viewing process but also emphasizes a candidate's adaptability and forward-thinking approach in leveraging modern technology for efficient communication. Sites like Behance or Vimeo host such portfolios, reinforcing the value of easily accessible digital showcases in today's competitive job market.

LinkedIn Profiles and Professional Networks: In the digital age, a mere resume often falls short of encapsulating an individual's full professional stature. By integrating LinkedIn profiles via QR codes, hiring managers gain immediate access to a dynamic representation of a candidate's career. This platform, beyond just listing experiences, showcases live endorsements, authentic recommendations, and a chronologically detailed work trajectory. This inclusion not only streamlines the hiring process but also offers a vivid snapshot of one's professional network and industry engagement.

Personal Websites or Blogs: In today's digitally-driven job market, showcasing your online presence can set you apart from other candidates. Having a personal website or industry-specific blog is an undeniable testament to your dedication, and integrating a QR code on your resume serves as a bridge to these platforms. This simple, scannable feature streamlines the process for hiring managers. Instead of tediously inputting URLs or combing the web for your profiles, they can swiftly access your curated digital space, appreciating both the depth of your professional endeavors and the thoughtfulness of your application's design. This efficient approach underscores your respect for their time, emphasizing your understanding of modern workplace dynamics.

Tech-Savvy Image: In the digital age, first impressions go beyond face-to-face interactions; they extend to your digital footprint and adaptability to modern technology. Adding a QR code to your resume serves as a testament to your alignment with current tech innovations. This small yet impactful feature subtly communicates to potential employers that you're not only keeping pace with technological advancements but are also unafraid to integrate them into professional realms. According to a report from Pew Research Center, the majority of the workforce now comprises Millennials and Gen Z, generations inherently familiar with digital tools. By catering to this tech-aware demographic, you position yourself as a forward-thinking candidate, ready for the challenges of contemporary workplaces.
Potential Drawbacks
Tech Hesitation: Not all hiring managers are tech-savvy. Some might not understand the QR code's purpose, while others may hesitate to scan it due to security concerns.

Overcrowding Your Resume: Space on a resume is precious. If not executed well, a QR code might make your resume look cluttered.

Relevance: For certain job roles or industries, a QR code might be deemed unnecessary or excessive.
Best Practices When Incorporating a QR Code
Positioning: Place the QR code in a corner of the resume, ensuring it doesn't overshadow key information.

Size Matters: Ensure the QR code is neither too big nor too small. It should be easily scannable. Read this blog article on How big does a qr code need to be? & How small can a QR Code be?

Testing: Before finalizing your resume, test the QR code to ensure it redirects to the correct platform.

Provide Context: Next to the QR code, add a brief note explaining where it leads, be it your LinkedIn profile, portfolio, or personal website.
Feedback from Hiring Managers: Insights from the Field
Multiple surveys and studies have shown mixed reactions from hiring managers about QR codes on resumes. While some appreciate the efficiency and modern touch, others prefer traditional resumes without any digital elements. Consider the industry and role you're applying for; tech-forward roles might be more accepting than conventional industries.
To Use or Not to Use: Factors to Consider
Industry Norms: A tech startup might be more receptive to a QR code than a traditional law firm.

Target Audience: If the hiring manager is likely to be a Millennial or Gen Z, they may be more familiar and comfortable with QR codes than older generations.

Relevance: Only add a QR code if it leads to relevant professional content. It's not the place for personal social media accounts.

Visual Appeal: Ensure that the overall look of the resume remains aesthetically pleasing and professional.
Wrapping Up
Should you put a QR code on your resume? There's no one-size-fits-all answer. While it can undoubtedly offer added value and showcase your tech-savvy nature, it's essential to consider the industry, role, and personal brand you're portraying. If used correctly, a QR code can be a valuable addition to your resume, setting you apart from other candidates. However, if unsure, always prioritize clear content and a professional presentation over trendy elements.